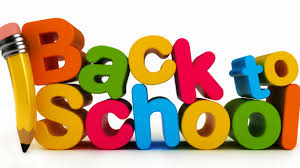 Welcome Back to School
Back to School Night will be Monday, August 12
th
from 7:00 to 8:30 p.m.
MS Orientation begins at 6:00 p.m.; all new and returning middle school students and their parents

need to meet in the gym for important information from Mr. Jacobsen.
Middle School students will get their class schedules, locker information and meet their teachers.
Elementary students can go anytime between 7:00 and 8:30 p.m. to visit their classrooms and meet their teachers.
High school students can visit classrooms from 7:00-8:30 p.m. and get their schedules, locker information, and check-out their Chromebooks.
Lunch deposits can be made at either building. If you have children in both the MS/HS and the Elementary Buildings you can make one deposit at either building. Meal prices in effect for this year are:
Breakfast--Elementary and MS/HS $1.80, Visitor $3.50
Lunch--Elementary $2.75, MS/HS $2.95, Visitor $4.50.
Forms for Free and Reduced School Lunch/Breakfast can be found on the school website (under Parents > Hot Lunch Links) for you to fill out and return to your school building on Back to School Night, or you may obtain a form at school.
The first day of school is Wednesday, August 14th with students attending all day. The Elementary School Day is 8:15 a.m.-3:20 p.m. and the Middle School High School Day is 8:15 a.m.-3:29 p.m.
Student Demographic and Release Forms (pink sheet)
These forms will be mailed out in early August. Please complete and sign both sides and return them on Back to School night or on the first day of school. MSHS students will not be able to check out their Chromebook until this form is returned.
Fall Sports Practices & MS Sports Information
High School practices for Volleyball, Softball, Football and Cross Country will begin on August 12th. Coaches will give athletes information on conditioning and parent meeting times. High School Fall sport team pictures will be taken after school on August 20th. Athletes must have an order form filled out and money when pictures are taken to order pictures.
Middle School Volleyball and Football will have meetings after school on August 15th from 3:30-4:00 p.m.; with the first day of practice on Monday August 19th. MS Football with check out their equipment on Friday, August 16th after school. MS Cross Country will start practice on August 14th.
Physicals & Participation Fee
All athletes are required to have a sports physical, signed by a parent/guardian and athlete, prior to participating in practice. Please turn in all physical forms to the main office. Athletes must pay a $25 participation fee prior to participating in all athletic activities.
Blue and White Scrimmages & First Softball Regular Season Game
The softball team will have their blue and white scrimmage on August 17th at 9:00 a.m. The volleyball blue and white scrimmage is Thursday, August 22nd at 6:00 p.m. The football blue and white scrimmage will be Friday, August 23rd at 5:30 p.m. at the high school track practice field. Admission will be a sports drink or free-will donation. Come cheer on the BlueJay Athletes!
FFA BBQ
FFA will have a BBQ, by the Ag. Shop, on Back to School night, at 7:00 p.m., for those interested in joining FFA.