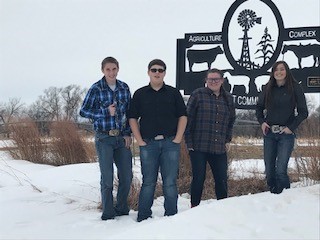 Livestock Evaluation Results
On January 31st, eight Ashland Greenwood FFA livestock evaluators traveled to Northeast Community College in Norfolk. Ashland Greenwood had eight students in total compete, four competed in the junior division ( left to right- Cinch Beetison, Bryce Kjar, Pennie Hayes, and Shenee Levin). Four competed in the senior division (left to right- Luke Sender, Ellie Stohlmann, Cody Grauerholz, and Shane Allington).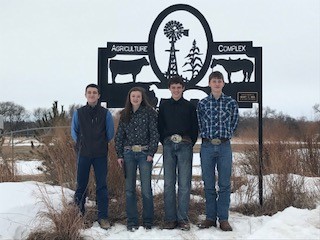 With close to 600 students competing from three different districts, it made for a very competitive day. In order to qualify for state, individual scores are collected after student judge six classes of livestock- breeding or market, two cull/keep classes, three questions sets of questions on the livestock classes, 1-3 sets of oral reasons, and one written test. The top four teams will continue onto state.
Ashland Greenwood students placed individually in their respective divisions- Junior; Shenee Levin 5th, Bryce Kjar 39th, Cinch Beetison 66th, and Pennie Hayes 79th out of 84 individuals. Senior; Cody Grauerholz 37th, Luke Sender 39th, Ellie Stohlmann 57th, Shane Allington 69th out of 71. This event was the first time experience for seven out of eight of these students. I am proud of how hard the students worked to prepare for this event and look forward to seeing how they improve in the next three years (since six out of eight of them are freshmen).