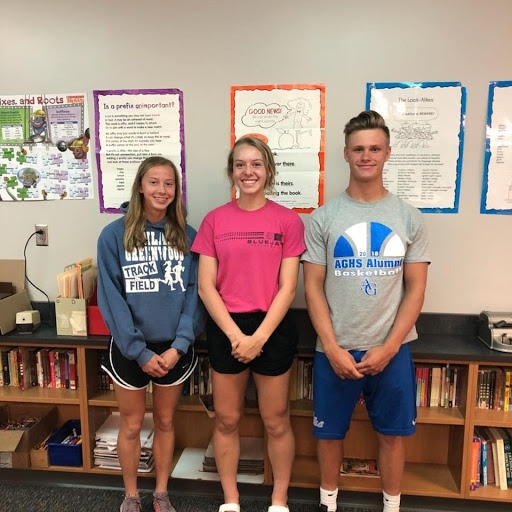 THREE ATHLETES QUALIFY FOR STATE TRACK MEET
The Ashland-Greenwood boys and girls track team had a successful day at Fairbury for their District meet on Thursday, May 10th. The Bluejays will be sending three athletes to compete in the State Meet at Omaha Burke High School on May 18th and 19th.
Bryce Kitrell was our lone male competitor to qualify. Bryce qualified as a wild-card in both the 100 meter and 200 meter dash. Bryce ran his personal best times in both events. His qualified time in the 100 was 11.35 and the 200 was 23.05.
We had two female competitors qualify.
Hannah Hatzenbuehler qualified in the 300 hurdles with a time of 48.03. This is her personal best time by over a full second. The hurdle events were extremely competitive and it brought out the best from Hannah.
Our other female competitor was Jaiden Tweton. Jaiden qualified in two events: the 800 meter run and the 1600 meter run. The 800 meters was special because Jaiden won the event and also broke the school record set by Hailey Pollard. Jaiden ran a 2:22.98 which was a three second improvement from her previous best.
Jaiden also qualified in the 1600 meter run by placing third. It was a tough turnaround for her as she had just given her all in the 800, and then had about 30 minutes to get ready for the mile. She again ran a season best of 5:39.06
Congratulations to all qualifiers and good luck at state!
Our State Meet schedule will be as follows:
FRIDAY MAY 18
10:35 AM - 100 meter Preliminaries - Bryce Kitrell
12:55 PM - 300 hurdle Preliminaries - Hannah Hatzenbuehler
1:35 PM - 200 meter Preliminaries - Bryce Kitrell
SATURDAY MAY 19
9:30 AM - 800 Finals - Jaiden Tweton
12:30 PM - 100 meter Finals - Bryce Kitrell
1:45 PM - 1600 meter Finals - Jaiden Tweton
2:55 PM - 300 hurdle Finals - Hannah Hatzenbuehler
3:25 PM - 200 Finals - Bryce Kitrell