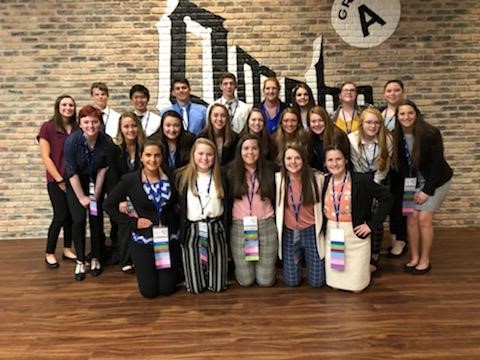 FBLA STATE LEADERSHIP CONFERENCE HUGE SUCCESS FOR ASHLAND-GREENWOOD STUDENTS
The State Leadership Conference was held in Omaha from April 4th-6th. Ashland-Greenwood FBLA had 23 members attend the conference and found success in many areas. Aiden Lindley received 3rd Place in Intro to Financial Math, Nick Starns earned 1st Place in Securities and Investments, and Camryn Ray, Kiara Libal, and Miya Carson earned 1st in Publication Design. These five students will be attending the National Leadership Conference this summer in San Antonio, Texas.
In addition to the National Qualifiers, many students received Top 8 recognition and found themselves on the awards stage Saturday morning for the final ceremony. Maddie Townsley, Anna Vavak, and Reynee Goff received 5th in Business Ethics; Miya Carson, Danielle Tonjes, and Mollie Konen earned 6th in Website Design; and Lila Marzouk and Alexa Meyer-Bundy received 7th in Digital Video Production.
Finally, many students earned Top 4% in the state of Nebraska, earning Honorable Mention recognition. Camryn Ray earned honorable mention in Intro to Financial Math, Intro to Business, and Word Processing. Lila Marzouk and Hannah Keith also received honorable mention in Intro to Business. Lila Marzouk, Mollie Konen, and Abby Craven received honorable mention in Hospitality Management. Becca Wilson also earned honorable mention in Job Interview, making it to the semi-final round.
Many members were also recognized for their local chapter contributions, Camryn Ray receiving the All-State Quality Award and Kiara Libal receiving the Who's Who Award. Danielle Tonjes, Camryn Ray, Kiara Libal, Lila Marzouk, and Miya Carson all received the Future Award. Finally, Katie Reisen was awarded with the Community Service Award.
A big congratulations to all members on a successful year and State Leadership Conference. Good luck to all of our national qualifiers as they compete this summer in Texas!